Green Cleaning!
It's very important to recycle the containers for hazardous cleaning products in an environmentally safe manner. But as with all waste management, the best plan is to REDUCE the amount of waste that needs to be dealt with. Using 'Green' products is better for the environment and better for your health. You can buy these non-toxic products or you can use items that can commonly be found around your home.
Here's a list of some inexpensive, easy to use, natural alternatives to toxic commercial products: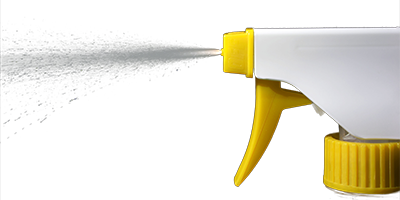 Baking Soda – cleans, deodorizes, softens water, scours.
Soap – unscented soap in liquid form, flakes, powders or bars is biodegradable and will clean just about anything. Avoid using soaps which contain petroleum distillates.
Lemon – one of the strongest food-acids, effective against most household bacteria.
Borax – (sodium borate) cleans, deodorizes, disinfects, softens water, cleans wallpaper, painted walls and floors.
White Vinegar – cuts grease, removes mildew, odors, some stains and wax build-up.
Washing Soda – or SAL Soda is sodium carbonate decahydrate, a mineral. Washing soda cuts grease, removes stains, softens water, cleans wall, tiles, sinks and tubs. Use care, as washing soda can irritate mucous membranes. Do not use on aluminum.
Isopropyl Alcohol – is an excellent disinfectant.
(It has been suggested to replace this with ethanol or 100 proof alcohol in solution with water. There is some indication that isopropyl alcohol buildup contributes to illness in the body. See http://drclark.ch/g)
Cornstarch – can be used to clean windows, polish furniture, shampoo carpets and rugs.
Citrus Solvent – cleans paint brushes, oil and grease, some stains. (Citrus solvent may cause skin, lung or eye irritations for people with multiple chemical sensitivities.)
(from- http://eartheasy.com/live_nontoxic_solutions.htm#substitutions)
Green Cleaner Recipes
Laundry
To whiten whites and brighten colors while doing laundry, use oxygenated bleach products instead of chlorine bleach.
For a green fabric softener, add vinegar to the final rinse cycle to remove soapy residue from clothing and to make clothes ultra-soft.
To boost your cleaning power when doing laundry, use ½ cup of Borax along with your phosphate-free biodegradable laundry detergent.
Bathroom
To rid your shower, tub and tiles from soap scum and mildew, combine 1/2 cup baking soda, ¼ cup vinegar, and 2 tablespoons lemon juice and scrub the area.
To kill mold and mildew in tile grout, mix 1 cup of Borax with 1 gallon of hot water and spray the area before wiping it clean.
To clean mirrors, windows, and other forms of glass, use a 50/50 mixture of vinegar and water.
Keep your toilet bowl clean with a mixture of 1 cup Borax put directly into the toilet bowl and allow it to sit overnight before rinsing the next day.
If you need help scrubbing grime off of difficult to clean surfaces, add salt to your mixture for use on shower tiles and other non-porous surfaces.
Odor Control
Control strong odors in cat litter boxes and garbage cans by sprinkling some baking soda on the bottom before putting in new litter or a new bag.
Deep clean your carpet and eliminate odors by adding 1 cup white vinegar to 3 gallons of water and spraying the carpet prior to steam cleaning.
To get a fresh smell from your carpet, sprinkle baking soda on your carpet before vacuuming.
For an all green air freshener, pour baking soda or vinegar into a shallow dish.
Freshen up your drains and clean copper around your home with fresh lemons.
General Cleaning
All – Purpose Cleaner – ½ cup vinegar, ¼ cup baking soda, 1 gallon hot water.
Clean the walls of your home by mixing one-part hydrogen peroxide with one-part water in a spray bottle and wiping the walls clean with a cloth.
For a "green" furniture polish, combine ¼ cup lemon juice and 1/8 cup olive oil in a spray bottle and evenly polish wood surfaces.
Toothpaste can be used to fight off stains and scruff marks, will remove crayons from walls, and get rid of stains on carpet by putting some toothpaste on a damp cloth and scrubbing the area.
To naturally clean your produce, combine 1 tablespoon lemon juice, 1 cup cold tap water, and 2 tablespoons white vinegar in a spray bottle and apply to the produce.
Oven cleaner – absorb spills with table salt while still warm. When cool, brush and wipe off. Soften baked on spills with a borax and lemon juice paste.
(from http://www.commercialofficecleaning.com/make-green-cleaning-supplies.html and from Saving the World Begins at Home – Alberta Environment and Sustainable Resource Development)