Location – 816 46th Street, Edson, AB (Doug White Park)
Edson Community Garden Project
"A place to grow and connect with each other and the earth."
Provide residents with access to gardens to grow their own food
Encourage community building and interaction between residents; for example matching seniors or residents who had gardens but are no longer able to care for them with members of the community who are eager to try out their green thumbs.
Increase awareness of local food production; including education for youth through school garden plots combined with class room instruction
Serve as a gathering point for workshops on composting, permaculture, canning and food workshops, rainwater collection etc., and ongoing exchanges of seeds and plants as well as local gardening knowledge
Provide an opportunity for a "plant a row, grow a row" program for our local food bank.
Above all create a beautiful space where residents can go to ENJOY our living earth
UPDATE April 7, 2016
All garden plots are spoken for, for this year. If you are interested in a plot, you can put your name on a waiting list. Please contact Anne Auriat at 780-723-1603.
There will be a work bee at the garden on May 13 and 14, 2016 as well as a Tree Pruning course.
So far we've completed:
26 vegetable garden plots of varying size and 5 accessible raised box gardens.
a gazebo for holding classes and other events
an equipment shed
water cisterns
game fencing and posts
crushed gravel (compacted) or asphalt for entrance path way, area around the accessible garden boxes and pathway to the gazebo
compost bins
purchase and plant fruit trees and shrubs to start the community fruit garden
This coming year we plan on:
develop another 8 garden plots
create an interpretive area
complete final planting of native trees and shrub areas
September 2015
The Edson Community Garden had their grand opening on September 13, 2015 which was a great success. The community showed great support of the garden.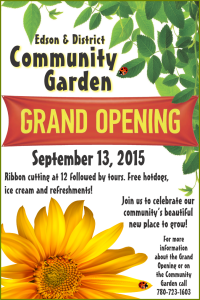 UPDATE – May, 2015
(Westhaven Students created artwork to hang on the fence)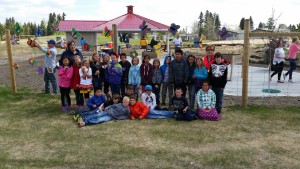 On Thursday, May 14 the Edson Community Garden hosted a Naturescape Workshop and Work Bee at the garden site. PCHS, A.H. Dakin, Evergreen, and HRH students from several grades and school clubs came to see and learn about the garden, and help plant trees and shrubs that will attract insects and birds to the garden area.
As a result of the work bee over 21 garden plots, 6 raised beds and a natural area that will be home to many insects, birds and animals was created.
It was a great experience working with these students and they worked hard! Their enthusiasm and muscle power planted over 70 trees and shrubs and laid down cardboard and wood chips (+75 cubic meters) in the planted area. One group also helped to decorate the fence with their art work. It looks great. As well, several of the teachers who brought the students worked along with them and helped to make the day such a success. We definitely could not have completed the project without them! Needless to say 25+ dozen of hotdogs also disappeared!
The many volunteers from the schools were joined by volunteers from the Edson Community Garden committee, Edson and District Recycling Society and ConocoPhillips. These volunteers helped to lead the planting/wood chip spreading and feed all the hungry helpers!
A great big Thank you to all our Contributers!
Alberta Government – Culture and Tourism (CFEP)
McLeod River Sod
Brisco Wood Products
Howard Bugg
Conoco Philips
Edson and District Recycling Society
Maximum Bobcat
Order of the Eastern Star
Ecole Pine Grove School Staff
Shell Canada Energy
Sundance Forest Products
Town of Edson
Yellowhead Agricultural Society
Weyerhaeuser Canada
Holy Redeemer Jr/Sr. High School Staff
Darcy's Welding
Centrica Energy
SemCAMS
West Fraser Mills Edson
Mojo Trucking
Edson Concrete Ltd.
A & M Concrete
UPDATE – September 22, 2014
We had a very successful Work Bee this past weekend! Thank you so much to all the volunteers that came out to help. We planted about 20 trees, put down some mulch, started work on the garden areas and gazebo and completed the fence. There will be another work bee in the spring. We look forward to seeing you there!
A great big Thank You to those who have contributed funds to the project so far:
Government of Alberta – Community Facility Enhancement Program
Shell
ConocoPhilips
Staff at Pine Grove Middle School
Yellowhead Agricultural Society